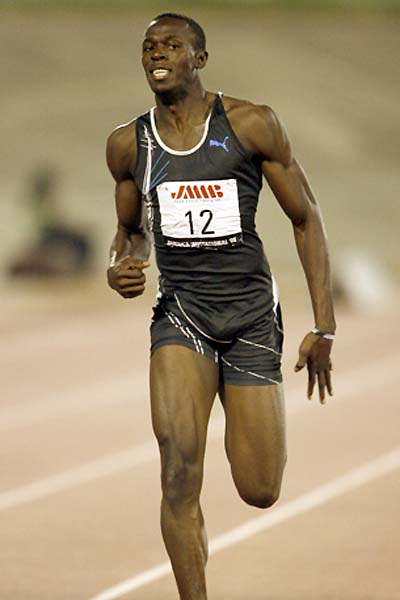 Triple Olympic sprint champion Usain Bolt blew away the field to win the 100m in style at the London Grand Prix.
Despite racing into a strong headwind, the Jamaican eased clear of the field after 50m and strode clear before high-stepping over the line in 9.91 seconds.
His team-mate Yohan Blake was a distant second in 10.11 while Britain's Simeon Williamson finished in fourth with Jamaica's Asafa Powell back in sixth.
"I'm not invincible," Bolt told BBC Sport after the race.
606: DEBATE
Pure magic from the fastest man on the planet
MissyRed
"Other people will have a good day when I don't, but until then I'll keep winning.
"Overall the main aim for me was the first 50m and I did well, I got it right so I'm happy.
"I knew it was going to be a headwind so I wasn't worried about the time. I got a good start, the transition was good so I'm happy with myself.
"I'm still at 85% (fitness) and after this it's all training, I've got two or three weeks of good training to put in so I guess I will be 100% by Berlin."
It was a display that would have been noted by his rivals, including America's Tyson Gay who runs in the 200m at Crystal Palace on Saturday, ahead of next month's World Championships in Berlin though.
Former world record holder Powell, who was unbeaten on his previous three visits to Crystal Palace and insisted before the race that Bolt could be beaten, ran a sluggish race and was never in contention.
Tyrone Edgar's hopes of being selected for Britain's squad for the World Championships were hit when he was disqualified from his heat for a false start.