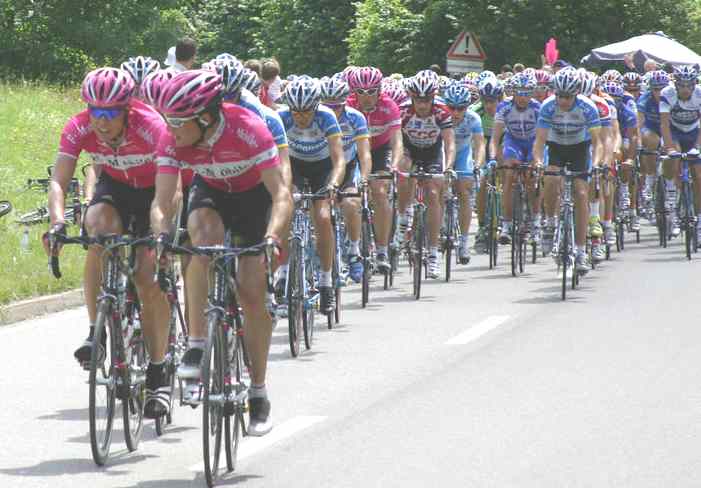 1259: From Will in Chesterfield, via text on 81111: "(Re 1246) How about a black and blue jersey for the rider with the most falls. Poor old Menchov would win that hands down!"
1255: Geoffroy Lequatre picked up the three King of the Mountains points for being first up the Cote de la Foret de Chambarans, followed by Roche and Leonardo Duque. By the way, it's the Astana heavy mob who are setting the pace at the front of the peloton.
1251: The gap to the 20 escapees is coming down - just 40 seconds now, after 40km. News of 'Lanterne Rouge' Yauheni Hutarovich - who is last in the overall standings, three hours 32 minutes and 43 seconds behind Alberto Contador. The Belarus rider has been dropped by the peloton on the way up the Cote de la Foret de Chambarans. Could be a long old day for him...
1246: From anon, via text on 81111: "If you could create a new jersey for the TdF, what would it be for and what would it look like. I would do a striped jersey for fastest overall descending time, on designated descents measured by a timing chip."
Fabian Cancellara would be a shoe-in for this one, surely?
1243: Cofidis rider Leonardo Duque picked up the six points for winning the intermediate sprint, followed by Nicolas 'I'm not going to mention who he is related to anymore' Roche and Sylvain Chavanel. Roche is sixth in the green jersey standings at the moment which is a pretty good show for his first Tour...a stage win would be nice though, wouldn't it?
1238: The breakaway bunch now has 20 riders in it - they are one minute and 20 seconds clear of the peloton as they approach the first intermediate sprint of the day, at Le Rival, which is at the 33km mark. Both Le Rivals for the green jersey, Thor Hushovd and Mark Cavendish are back in the main bunch so neither will contest this one...
1232: Forgot to mention earlier that we've already had our first climb of the day, the Cote de Culin after 6.5km. No sign of Franco Pellizotti but Egoi Martinez, who lies second in the King of the Mountains category behind the Italian, did pick up a point - shame he is still 77 points adrift really.
1228: Nicolas Roche, son of 1987 winner Stephen Roche, is one of the men to join the front bunch. After 25km, they are 28 seconds ahead of the peloton with William Bonnet trying to bridge the gap.
1224: Clearly a lot of men fancy this one today. Six more riders have caught our 11 escapees and one of them, Russia's Nicolai Trussov has gone off the front on his own.
1224:
fufighter on 606:
"I thought Millar would be told to rest today in order to support Wiggo on the climb tomorrow. Obviously not."
1221: We've got 11 riders in the breakaway group now - Cadel Evans, Yaroslav Popovych, Kim Kirchen, Jose Luis Arrieta, David Arroyo, Luis Leon Sanchez, Leonardo Duque, Simon Spilak, Carlos Barredo, Geoffroy Lequatre and Britain's David Millar! Go Dave! With 18km of today's 178km gone, they are around 20 seconds clear of the main bunch.
1217: From Mike, not doing much work in Leeds, via text on 81111: "What's the criteria for the White Jersey? I understand it's the best young rider but what exactly does that consist of?"
Hi Mike, the white jersey is worn by the man highest in the General Classification who is aged 25 or younger. So Andy Schleck, who is 24, should be wearing it a lot again next year...providing he is not in yellow by then of course!
1213: Cadel Evans is one of the riders in this breakaway group. The Welsh-Australian did salvage some pride from what has been a disastrous Tour with 12th place in yesterday's TT...fair play to him for still giving this race a go.
1212: The three riders who went off early have already been reeled in but another 10 men went off at the 9km mark...not much of a gap at the moment though...
1207: Just a reminder of who owns what jersey at the moment. We've got three more climbs today so expect to see quite a bit of Franco Pellizotti, and his polka dot socks, in the next few hours...
TOUR DE FRANCE 2009 AFTER STAGE 18:
Yellow jersey: Alberto Contador (Spa/Astana)Green jersey: Thor Hushovd (Nor/Cervelo)Polka dot jersey: Franco Pellizotti (Ita/Liquigas)White jersey: Andy Schleck (Lux/Saxo Bank)
1204: Thierry Hupond (Skil Shimano) was the rider who attacked as the race pulled out of Bourgoin Jallieu - after 3km he is 40 seconds clear of Frederik Willems (Liquigas) and Samuel Dumoulin (Cofidis), with the peloton another 20 seconds back.
1200: There is a climb towards the end of today's stage where, in theory, we could see some of the riders in the top six have a go but it is far more likely that the big-hitters in the General Classification will be saving themselves for Mont Ventoux - aka the Giant of Provence - at the end of tomorrow's stage, when all hell is expected to break loose.
1157: Stage 19 is officially under way. Inside the first kilometre, Nicolas Roche, son of 1987 winner Stephen, called for assistance from his team car and we also had our first attack of the day - it's been that kind of Tour really, hasn't it?
1155:
SeanF81 on 606:
"Great performance yesterday by Wiggins - shame he couldn't quite eek out 3rd place, but its down to one 20km climb tomorrow - he's had Lance's number once and Lance has had his once, so 11 seconds isn't impossible!
Today it'll be time for Cofidis, BBox and the rest of the French teams to get their air time - wouldn't be surprised to see Chavanel pick up the win."
1153: Andy Schleck fared better than expected around Annecy, and comfortably held on to second spot overall, but behind him the race for a place on a podium in Paris is intense with only 34 seconds separating Lance Armstrong in third and Frank Schleck in sixth - with Bradley Wiggins and Andreas Kloden in between.
1150: GENERAL CLASSIFICATION AFTER STAGE 18:
1. Alberto Contador (Spa/Astana) 73 hrs 15 mins 39 seconds2. Andy Schleck (Lux/Saxo Bank) + 4 mins 11 secs3. Lance Armstrong (USA/Astana) + 5 min 25 secs4. Bradley Wiggins (GB/Garmin) + 5 min 36 secs5. Andreas Kloden (Ger/Astana) + 5 mins 38 secs6. Frank Schleck (Lux/Saxo Bank) + 5 mins 59 secs
1149 Today? Well, in theory it is a transitional stage - and we are more likely to see attacks from riders down the General Classification who are looking for a final shot at glory and a stage win before Paris than any moves by the big-hitters.
1147 The 158 riders still in the Tour are about to roll through the neutral zone in Bourgoin Jallieu and get stage 19 under way.
1145 BST: All hail King Contador! Yep, after yesterday's time trial, it's virtually certain that Alberto will be celebrating his second Tour win in Paris on Sunday. Behind him? It's all still up for grabs...