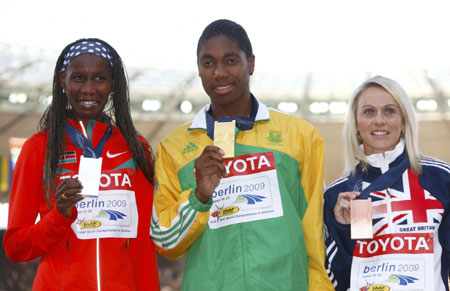 Caster Semenya became the new darling of South African athletics when she won the gold medal in the 800 metres at the IAAF World Championships in Athletics in Berlin in an impressive style on August 19.
Semenya followed the same tactics as in the semi-finals and held off any challenges her opponents could muster to stride to an easy victory in 1:55,45 defeating Kenya's Janeth Kepkosgei Busienei (1:57,90) and Britain's Jennifer Meadows (1:54,93). Semenya's time is a world leading performance for 2009 and also bettered her own South African record.
She went to the front from the start and kept her position with Kepkosgei when they passed the 400m mark in 56, 83 seconds. Immediately after the bell, she went ahead and gradually opened a gap. She entered the final straight well ahead and from then on it was clear that no one will keep her from the gold medal.
Semenya's talents were first observed in 2007 when she clocked 2:09,35 and finished second at the National Schools Championships in Port Elizabeth. A few weeks later she finished fifth at the Southern African regional meeting.
In 2008 she went to the IAAF World Junior Championships and although she gained valuable experience, she was eliminated in the heats of the 800m. Three months later she won the 800m at the Commonwealth Youth Games in Pune, India, in 2:04, 23 and evidence of her talents were clear. After completing her matric in Polokwane, she then moved to Pretoria to be with her new coach Michael Seme.
On 6 March this year she broke Zola Budd's 25 year old junior record in the 800 metres when she clocked 2:00, 58 at the Yellow Pages meeting in Germiston, and then followed with a world-class-performance of 1:56,72 at the African Junior Championships in Mauritius.
KHOTSO MOKOENA-SILVER MEDALIST
South Africa won a second medal at the IAAF World Championships in Athletics when Khotso Mokoena finished in the silver medal position behind America's Dwight Phillips in the long jump.
Mokoena, the reigning Olympic silver medalist and the World Indoor Champion, recorded a distance of 8,47m to trail Phillips by seven centimetres.
"The competition was pleasant. I have the silver medal, I will not complain. I was however disappointed with my first jump which was a no jump because it was quite far. But that is part of the game.
"After that mishap I said to myself that I have to keep going all out because it was quite close between Phillips and me. I am satisfied because I gave it all that I could," explained Mokoena who started with a no jump, then unleashed his best effort of 8,47m, and followed it up with jumps of 8,31m and 8,19m before he concluded with another two no jumps.
Phillips, who is also the world 's leading jumper this year with 8,74m, is also known as a master tactician, and it was no surprise that he opened with his best effort of 8,54m to put pressure on his opponents.
"When Khotso jumped 8,47m I was not really worried because I jumped from about ten centimetres behind the board, and knew that I could go further," said a jubilant Phillips. This was his third World Championships long jump gold medal.
Irving Saladino, the defending World Champion and 2008 Olympic Champion, bowed out of the competition after three no jumps.
MBULAENI MULAUDZI-800m WORLD CHAMPION
The popular 28-year old South African 800 metres runner was grimly determined to add the coveted gold medal to his already impressive collection in his career, when he performed his on Sunday, 23 August.
Mulaudzi's feat also brought to South Africa their third medal and the triumphant team will return home with two gold medals and one silver medal finishing in 9th position on the medals table. Earlier in the Championships Caster Semenya won gold in the 800 metres and Khotso Mokoena silver in the long jump.
Mulaudzi changed his tactics in Sunday's final at the IAAF World Championships in Athletics in Berlin when he took the lead and control of the final of the 800 metres from the gun and fought off any challenge that his opponents had.
The strongly built Mulaudzi gave an exhibition of power running seldom seen from him as he powered through the first 400 metres in 53,44 seconds and kept on putting on the pressure in the final 400 metres.
Over the last 100 metres he had to hold off a strong challenge from Alfred Yego and Yusuf Kamel but held on to win in 1:45,29 – six hundredths of second ahead of his two rivals who were both credited with a time of 1:45,35 in second and third place respectively.
SA MARATHON TEAM – FIFTH POSITION
Athletics South Africa's plan to set up a training camp at Potchefstroom and to obtain the services of Kenyan coach Danson Muchoki bore fruit on Saturday, 22 August when the marathon team had an excellent result in the IAAF World Championships marathon finishing all three in the top 22 and snatching fifth place in the team competition.
The three runners, Norman Dlomo, Johannes Kekana and Coolboy Ngamole, definitely learnt, amongst others, much about team tactics during the camp and this time around they entered the marathon with a plan.
Unlike as happened in the past with South Africa marathon runners, this year's trio entered this year's race planning to work together and to cement a good performance in the team competition.
The hand of their Kenyan coach could be seen throughout the race as they stuck to their plan and in the end Dlomo crossed the line in 12th place in a time of 2:14:39, Kekana came in 17th in 2:15:28 and Ngamole 22nd in 2:16:20. All three recorded their season best times.
This enabled them to snatch fifth place in the World Marathon Cup competition with a time of 6:46:27 and walk off with a team prize of 8000 US dollars.
The World Marathon Cup forms part of the World Championships marathon.
They were ahead of countries like Brazil, Russia, Australia, Germany, France, Tanzania and Korea
Tanith Maxwell was the only South African athlete in the women's race and finished in 45th place in a time of 2:41:48.