Jonathan Trott hit an assured debut century as England gave themselves a golden chance to win the Ashes.
The Warwickshire batsman was last out for 119 as England declared their second innings on 373-9, a lead of 545.
Skipper Andrew Strauss contributed 75 and Graeme Swann an aggressive 63 but Andrew Flintoff's final Test innings of 22 was merely a brief cameo.
Australia were 80-0 at the close, still needing an improbable 466 more for what would be a world record triumph.
There was some surprise when Trott was selected to make his debut in such a critical match, but the 28-year-old South African-born right-hander fully justified his inclusion with an unflappable innings.
After 15 wickets on day two and with the weather set fair, England knew that time was not an issue, and quietly built upon their lead, with 38 coming from 13 overs in the first hour.
The plan was clearly consolidation, an unsurprising tactic especially after the first ball of the day took yet another piece out of the fragmented top surface, lifted sharply and looked for all the world to have been edged by Trott to the keeper.
Umpire Asad Rauf, who made two noticeable errors on Friday, astounded the majority by rejecting the appeal, before replays proved it to be an outstanding decision, the ball clipping the trousers.
Strauss took 154 balls to register his half century, the slowest of his 17 in 67 Tests, but looked in complete control, with economy of backlift helping to nullify any threat.
Ponting was somehow able to continue desp
ite this horrific injury
His average as captain is 56 compared to an overall figure of 44, but with his 19th century in sight he edged to slip in the final over before lunch.
Opposite number Ricky Ponting's problems intensified when Matt Prior's drive struck him a sickening blow in the jaw from the final ball of the session, but typically the Australia captain merely spat out blood and was back at his post immediately after the interval.
There was another example of Simon Katich's brilliance in the field when he swooped and knocked out a stump with a direct hit from cover to run out Prior as he forgot who he had hit it to and pushed for a quick single.
That brought in Flintoff, who was cheered affectionately all the way to the crease.
Faced with both a proverbial kick in the teeth in the form of a second Ashes series defeat as captain and a literal one with his badly cut mouth, Ponting admirably took the trouble to shake him by the hand.
The lead was 340 and it was tailor made for England's departing talisman, who got off the mark second ball with a boundary and unleashed three more lusty boundaries through the leg-side before he was caught on the boundary, leaving him with 3845 runs from his 79 Tests at an average of 31.
Many hope Stuart Broad will develop into a genuine all-rounder and a fabulous imperious lofted straight drive almost sailed for six and brought up the 400 lead, the tall left-hander hitting two more in that same over from Marcus North before top-edging one to cover.
Swann continued the attacking fun with some fluent off-side strokes, firing successive fours to complete a session in which 133 were scored from 28 overs, Trott often deprived of the strike, adding only 33.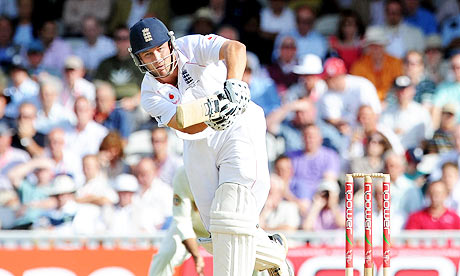 But he calmly went about the business of acquiring runs, his only moment of anxiety on 97 when an inside edge trickled agonisingly past the stumps, before he serenely turned one off his hip to the boundary to signal his century.
Rob
Having matched his highest Test score, Swann was the eighth England wicket to fall when he tried to hook and the ball spooned off the slice of the bat to keeper Brad Haddin.
That was not a result of the wicket, however, despite clear evidence of its disintegration, and the pure strokes continued, Trott producing two sublime straight drives before he was caught in the gully which signalled the declaration.
They continued in the Australia innings too, and in truth the nearest England came to a wicket was when Ian Bell twice missed the stumps with shies from cover after some injudicious early attempts for singles.
The wicket did not really misbehave, however, and England must be patient and hope for a repeat of the first innings when Australia crumbled after a similarly composed opening partnership.
Despite the confident start, it has to be stressed that Australia's target is 128 more than the highest total made to win a Test match.
The highest score to win at The Oval is only 263, and that was for the loss of nine wickets - and way back in 1902!
Those figures are unlikely to be of interest to Ponting and his team, however, who will still believe they can achieve the seemingly impossible.