Giancarlo Fisichella is being strongly tipped for a switch to Ferrari for the Italian Grand Prix on 13 September.
Confirmation of the Force India driver's move could come on Tuesday, a source close to Ferrari told BBC Sport.
However, the 36-year-old's manager told BBC Sport on Sunday that Ferrari had not been in contact.
Fisichella, second in the Belgian Grand Prix to Ferrari's Kimi Raikkonen, would replace Luca Badoer, who has been the slowest man in F1 in his two races.
Badoer, Ferrari's official reserve driver, was drafted in to replace the injured Felipe Massa after Michael Schumacher was forced to shelve his comeback plans.
Massa is recovering at home in Brazil after suffering a fractured skull in a crash during qualifying at the Hungarian Grand Prix in July.
The 28-year-old is targeting a return at the Brazilian Grand Prix on 18 October, but there is speculation that Massa will not be able to race until at least next season.
Ferrari are believed to have run out of patience with Badoer, who has qualified last at both of his races so far.
While Raikkonen won Sunday's race at Spa, Badoer trailed in last, nearly 48 seconds slower than the driver in front.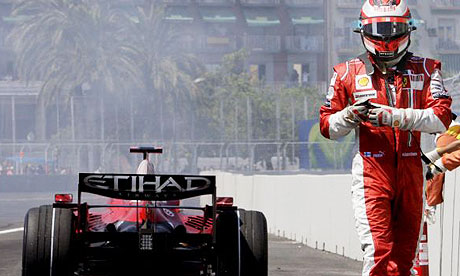 Fisichella told BBC Sport at the Belgian Grand Prix that it would be a "dream" to drive for Ferrari, but did not confirm that he had been approached.
His manager Enrico Zanarini said: "Nobody's been in touch. We find ourselves in a fantastic team with a great car for Monza because if the car is quick here it will be quick in Monza."
Force India team manager Andy Stevenson said: "It could be [another driver at Monza]. It's a tricky one.
"I just saw Stefano [Domenicali, Ferrari's team principal] up on the rostrum already on the telephone, so whether that's to someone's manager or not I'm not quite sure. We'll see how it pans [out], but we're very happy at the moment."
If he does move to Ferrari, Fisichella would drive only as a replacement for Massa - double world champion Fernando Alonso will switch to the team for 2010, although the Spaniard's move has not yet been confirmed.
Fisichella's contract with Force India runs out at the end of the 2009 season.
Force India would likely promote their reserve driver Vitantonio Liuzzi if Fisichella moved on.