Everton boss David Moyes says Manchester City's continued pursuit of Joleon Lescott is "disgusting".

City boss Mark Hughes had suggested he would go above Moyes' head, but the Scot said he would decide whether the England centre-back would leave.
"I hear City think they are talking to people who make the decisions here, well that's me," said Moyes.
"They way it has been handled is disgusting and all it has done is disrupted our club."
The Toffees have turned down a transfer request from the 26-year-old Lescott and have rejected bids of £15m and £18m for him from City.
An indignant Moyes criticised City for the manner in which they have conducted themselves over the transfer saga.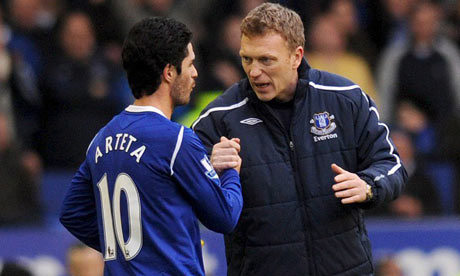 "It has not been handled correctly from over there (City)," he said.
"We do not do our business in public, we would go to the right people to find out what is happening."
The 46-year-old drew unfavourable comparisons with City's approach and the way in which Real Madrid conducted business with Manchester United over the £80m transfer of Cristiano Ronaldo.
"That deal was done immediately in the summer, giving United a chance to replace him," he said. "There is not a chance we will sell this close to the end of the window.
"Most clubs will have a price for a player. The offers were not big enough.
"We think the world of him, as a centre-half and a left-back. He gives us two players in one.
"City paid £12m for Gareth Barry with one year left on his contract. Lescott has four-and-a-half years on his contract left."

Moyes added that Lescott "has had his head twisted" as a result of the attention from City but reiterated his insistence that the player will not be leaving Goodison Park.
"He should get his head around that and get on with his career," added Moyes.
"I make the decisions, they have not talked to me and the player has been consistently told he is not for sale."
Moyes also admitted that the issue had hampered Everton's preparations for the new season and suggested this may have been City's intention.
"It has disrupted us," he said. "They have been talking about it and we have not been talking about the start of the season, that has been disruptive. So maybe that's what the overall plan was."
Hughes recently said that City were trying to speak to the people who ultimately make the decisions over transfer dealings at Everton, adding that he was uncertain over the timescale for how long such conversations would remain active.
City are likely to move on to other defensive targets if they cannot persuade Everton to sell their versatile defender.
Hughes not giving up on Lescott
Hughes has already signed Kolo Toure from Arsenal for £14m this summer but is eager to give his squad more depth in that department.
"We were looking to strengthen the defensive options we have got," explained Hughes. "We have done that in respect of Toure, we are very pleased he is here.
"I have stated we would like further strengthening to take place but if not we go with what we have got."
Lescott joined Everton for £5m in June 2006 from Wolves and has developed into one of the Premier League's leading defenders and a regular in the England squad.