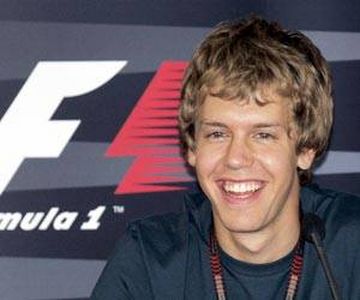 Sebastian Vettel believes he can snatch the world crown from under Jenson Button's nose after a Japanese Grand Prix win kept him in the title race.
"It can still be done," he said on Sunday after Button finished in eighth.
With two races and 20 points left, Red Bull's Vettel now sits 16 behind Brawn's championship leader with Rubens Barrichello two ahead of the German.
Button and Barrichello's team boss Ross Brawn said Vettel's "great performance" at Suzuka was "perhaps a major worry".
He added: "Jenson will be looking at both sides after today."
And a bullish Vettel vowed to keep battling until the last moment.
"As I've said many times already, I will fight until the end, until the last breath," he declared.
F1 WORLD CHAMPIONSHIP MATHS
Button will win the title in Brazil if...
He finishes third or better
OR Vettel finishes lower than second and Barrichello finishes lower than fourth
OR he outscores Barrichello by four points
The gripping title chase resumes at Barrichello's home grand prix in Brazil on 18 October, with the season finale in Abu Dhabi on 1 November.
Button, who won six of the first seven races in a season he had threatened to completely dominate, got lucky when an early collision between Adrian Sutil and Heikki Kovalainen allowed him to jump into the final points position from 10th.
The 29-year-old Englishman never looked like outscoring Barrichello by the five points he needed to clinch the drivers' championship in Japan after a poor qualifying session saw him start from the midfield.
A third place at the penultimate race in Brazil would still see Button take his maiden world title.
But Red Bull are not giving up hope that 22-year-old Vettel can continue his dominant Japan form into the final two races and take the crown.
"He's got nothing to lose," said Horner. "He just has to win the next two races."
Pointing out that Ferrari's Kimi Raikkonen made up a 17-point deficit on McLaren's Lewis Hamilton with two races to go to take the 2007 title, Vettel added: "It's a shame that there's only two races to go, but that's life.

Brawn GP boss assesses title race
"We're here to fight. Two more races like this and it's looking better. Our task now is pretty straightforward, we have to push ourselves to the maximum and try to win."
"We have a great car, still improving, everyone in the factory is improving so we'll see."
Button himself was "disappointed" that fifth-placed Williams driver Nico Rosberg was not penalised for speeding under yellow flag conditions, but felt the decision will not have a huge impact on his championship bid.
"It's not going to change anything massively," he said. "Life goes on.
"I only lost one point to Rubens today, which is my main priority. Obviously we lost a few points to Sebastian but we were expecting them to be strong here.
"We go to two circuits now which should suit our car so I'm excited about the end of the season and already looking forward to the next race in Brazil."
Barrichello said: "The most important thing is that I gained a point on Jenson this weekend.
"The Brazilian Grand Prix is always a very special occasion for me. It's my home race so I'll be going happily there to win the race and hopefully keep my [title] chances alive."
Former world champion Damon Hill believes Button must "raise his game" if he is to be the second Briton to take the world crown in consecutive seasons following Lewis Hamilton's 2008 success.
"This is dragging on a bit," he said. "He really does have to lift his game, to put his stamp of authority on this one and make sure it happens."
Of Button's mentality, boss Brawn insisted his driver remained unaffected by the pressure and claimed it is his team's collective struggles in qualifying which have prevented him from finishing higher in recent races.
"I think it's an easy to make that accusation [that Jenson is choking]," he said. "He has got a lot of pressure which he has not had for years.
"He is driving very well in the races but we are not getting the qualifying together for one reason or another and that's where we have to focus our efforts."